Business Enhancement through Self-Service Solution Terminals (SSST)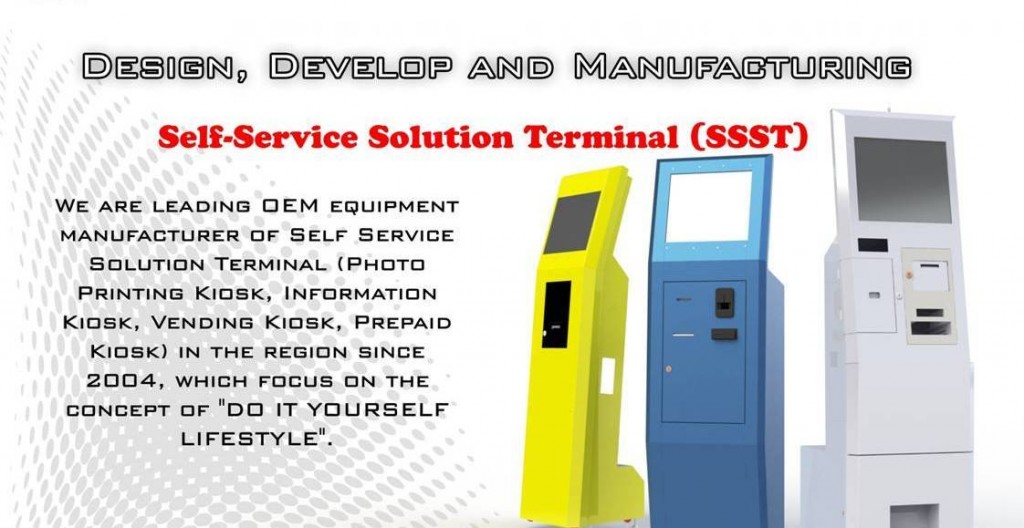 We would like to interest you in a revolutionary concept which is changing our lifestyle.
We are a designer, developer and manufacturer of Self-Service Solution Terminals (SSST). YK Components Sdn Bhd aims to be the leading e-commerce, sales automation equipment manufacturer and system integration provider in the region, which is committed to the concept of self-serve oriented "Do-It-Yourself Lifestyle".
We have partnered with valued customers in a full complement of vertical markets, transforming self-service concepts to deployed solutions, such as Photo Kiosk, Recycling Kiosk, Information Kiosk, Vending Kiosk, Prepaid Kiosk and Coin-Operated Laundry Equipment.
Just imagine, a standalone multipurpose self-service Kiosk that not only pays for itself it makes even more money for you.
Our Kiosk can be customised to your specific needs such as interactive information, advertising of your outlets and e-menu. It also have a note acceptance and customised software to accept payment for self-service prepaid phone reload, MP3 download, ticket sales, etc, all in one Kiosk. With a photo printer attached the IEP Photo Kiosk represents an entirely high performing kiosk, trade-mark registered by YK Components Sdn Bhd with significant advantages in speed and performance, a convenience to your customers having functions and parties and is a great alternative source of income generator for you.
According to a new forecast report from InfoTrends/CAP Ventures, digital photo kiosk sales are expected to demonstrate a compound annual growth rate (CAGR) of 12%. Further, both digital camera and camera phone sales continue to grow and this fact bodes extremely well for the photo kiosk industry.
For a grand dinner reception or function an RFID tag can be embedded into the invitation cards sent out. Upon entering the ballroom the guest will just wave the card at the Kiosk with a reader and his/her attendance will be automatically registered and his/her name, table number and floor plan displayed for easy location.
This and multiple other customisation of the Kiosk can be done limited only to the imagination and creativity of our mind.
Please feel free to contact us for more information, quotation for your customised Kiosk or just to see a demonstration of the IEPTM Photo Kiosk.